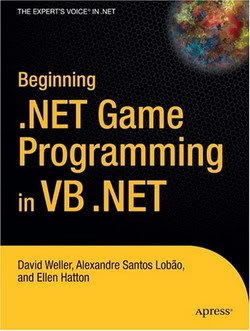 Author(s) : Ellen Hatton, Alexandre Santos Lobao, David Weller
Publisher : Apress
Year : Sep 2004
ISBN-10: 1590594010
ISBN-13: 9781590594018
Language : English
Pages : 440
File type : PDF
Size : 8.7 MB (book + source code)
Using this book, you should be able to pick up the beginning concepts of game development pretty easily. It takes you through the simple sprite-based games, all the way through a basic 3-D game implementation.
The whole book is designed to be read in a continuous way. In Chapter 1, westart by creating a very simple game while presenting the basics of collision detection. Chapter 2 shows how to build a new game, using the concepts presented in Chapter 1 and adding new explanations and examples about artificial intelligence in games.
Please keep in mind though that this book isn't intended to provide a route to the professional game programming world, because we don't go deep enough into some essential aspects professional game developers need to know. However, you can think of this book as a first step into this world, since we do provide insights into important concepts such as the need to create a good game project and organizing the game's team, as well as appendixes written by professionals from the game industry that serve as guides to game creation.
TABLE OF CONTENT:
Chapter 1 – .Nettrix: GDI+ and Collision Detection
Chapter 2 – .Netterpillars: Artificial Intelligence and Sprites
Chapter 3 – Managed DirectX First Steps: Direct3D Basics and DirectX vs. GDI+
Chapter 4 – Space Donuts: Sprites Revisited
Chapter 5 – Spacewar!
Chapter 6 – Spacewar3D: Meshes and Buffers and Textures, Oh My!
Chapter 7 – Adding Visual Effects to Spacewar3D
Appendix A – Suggested Reading
Appendix B – Motivations in Games
Appendix C – How Do I Make Games?
Appendix D – Guidelines for Developing Successful Games
DOWNLOAD Beginning .net Game Programming In Vb.net (with Source Code)
http://rapidshare.com/files/206740426/begdnetgameproginvbdn.rar
or
http://ifile.it/2d5c7tm
password:ganelon